COVID Protocol and How We're Handling Pickups
Updates on our covid procedures and how you can pick up your orders in a safe way!
We wanted to share some updates that we have put into place at the office.
First things first, we are adhering to the following protocol:
We require all doctors, staff and patients to wear masks in the building.
We are taking temperatures upon entry using a non-contact thermometer.
We are asking people to use our Pure and Clean hand sanitizer while at the office.
For pickups of any kind, we are trying to utilize our non-contact pick-up area.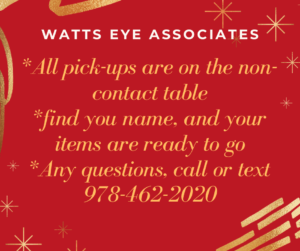 It is located on the backside of the building, near the handicapped spaces. Through the double doors, you will see a vestibule with a table for non-contact pickups. If you have made a purchase, we've placed all your items on this table in a bag with your name on it.
So, for any pickups – contacts, glasses, lid-cleaners, FogAWAY spray, etc – you can pick them up in this area.
If you are picking up glasses and need an adjustment, call us at 978-462-2020 and we'll help you out!
Thanks so much!
Watts Eye Associates